The University Center for International Studies (UCIS) supports the University community and specific units in providing guidance and assistance when hosting visiting international delegations. UCIS leads the planning and execution of senior-level visits and meetings for international dignitaries and delegations to ensure that federal regulations and University guidelines are followed and proper protocols observed.
Certain delegation visits are handled directly by University schools and units. Examples include short-duration visits for exploring collaborative opportunities, promotional events related to joint activities, courtesy call visits, signing ceremonies, and other approved events.
This site provides guidance to determine whether your unit should host a delegation visit, when and how UCIS may direct or assist, and where you can find additional resources.
Defining Delegation
"Delegation" refers to any group requesting to visit the University of Pittsburgh as an official representative of a foreign academic, private, or governmental institution. A delegation may consist of a group of students, staff members, faculty members, government representatives, association members OR a high-ranking individual with the capacity to officially represent another institution or group.
To learn more about how to invite and/or host international delegations, please visit www.globalpartnerships.pitt.edu.
Step 2: Discerning UCIS or Unit Coordination
UCIS often provides resources and in certain cases, helps coordinate the visit of some international delegations. This section is designed to help you determine whether or not UCIS can assist in coordinating your international delegation visit.
Please review the following matrix. If your proposed delegation visit falls under an area that UCIS can assist, simply submit an Assistance Request Form. If your unit will coordinate the visit, please continue to the How to Proceed section for next steps and helpful resources.
| | | |
| --- | --- | --- |
| The Delegation… | UCIS Coordinates Visit | Unit/Dept./Office Coordinates Visit |
| fulfills the criteria for a formal meeting with the Chancellor or Provost? | X | |
| has requested to meet the Vice Chancellor for Global Affairs? | X | |
| consists of a (equivalent to a) Chancellor, Vice Chancellor, President, Provost, Vice Provost Dean or Director? | X | |
| was invited by a Director, Dean, Vice Provost or Vice Chancellor here at Pitt? | X | |
| includes members who are Pitt alumni? | X | |
| has an existing academic institutional agreement with Pitt that is not an MOU? | X | |
| wishes to meet with a particular or relevant UCIS Center? | X | |
| requested the visit to Pitt or invited themselves to Pitt? | | X |
| is comprised mainly of students? | | X |
| does not officially represent another party? | | X |
| just wants to tour the campus, visit Pitt? | | X |
Step 4: Planning & Resources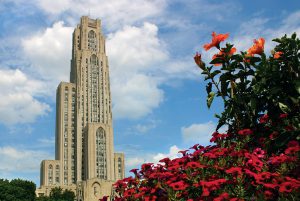 Once objectives are clearly defined, please contact the UCIS Vice Provost's Office to inquire about visits for high-ranking delegations. UCIS is one of the key departments responsible for ongoing relationships with institutions abroad and can provide direct support and assistance depending on the strategic importance of the international delegation and as capacity allows. If your delegation warrants meeting with the Vice Provost for Global Affairs you can fill out the following briefing form and submit it the UCIS Vice Provost's Office.
The following guidelines are intended to apply to short duration visits to University of Pittsburgh for exploring collaborative opportunities, promoting joint activities, courtesy calls, signing ceremonies or other approved events.
Invitations
• Determine who at the University of Pittsburgh will make the formal invitation to the visitor(s). This person should sign the invitation letter(s).
• Prepare formal invitation letters (see section below), as needed. Such letters are often necessary to help the visitors obtain U.S. visas. Be sure to include the full name of each visitor, the dates they will be on campus and the purpose(s) of the visit.
• Determine visa requirements, insurance, and restrictions on payment for honoraria or other services. Information about visitor visas can be obtained at the US Department of State website. Due to Department of Homeland Security initiatives, the process to obtain some types of visas can be complicated and lengthy – sometimes taking several months.
• Determine appropriate dates for the visit considering the academic calendar, weekends, holidays, conflicting events, and availability of people to meet with the visitor.
Contact/Communication
• Determine a single point of contact to coordinate the visit. Is this UCIS or will it be another department? If not UCIS, identify a coordinator for the visit to build the itinerary, schedule meetings, and address logistical questions.
• If dealing with a company, be sure to seek the Office of Economic Partnerships (OEP) coordination on the company's footprint with the University and what other parts of campus may benefit from the visit.
Visitors
• Request biographical information from visitor(s) for use in developing the visit briefing and introducing the members of the delegation to University of Pittsburgh participants.
• Where possible, incorporate the cultural customs of the visitors' home country and use formal salutation where appropriate.
• Determine if anyone will be accompanying the visitor and if so, consider the University's responsibilities for those individuals.
• Determine any special needs of visitor(s) — diet, transportation, disability issues, escort, and language or interpretation issues.
• Consider the "levels" of the visitor(s). The importance of the visit and the "seniority" of visitor(s) will help determine the protocol involved. It will vary greatly between the visit of a researcher and the visit of a high-ranking international university senior leader.
The Visit
• Determine visa requirements, insurance, and restrictions on payment for honoraria or other services. Contact The Office of Trade Compliance as soon as possible. Due to homeland security initiatives, the process to obtain some types of visas can be complicated and lengthy — sometimes taking several months.
• Consider in advance what events and activities are possible, e.g., lecture, presentation, reception, dinner, lunch, breakfast, meetings, site visits, etc. Hosting a delegation during a large athletic event or graduation weekend might impact ability to secure hotels, etc.
• Transportation – determine whether the visitors will need transportation from the airport/train station to hotel or around campus.
• Language – address needs for translation services.
Prior to issuing the invitation to an international guest, you should first determine the financial obligations of the University of Pittsburgh and the responsibilities of the guest. Many departments may consider paying for the visitor's local expenses including lodging, transportation, and food. They may also wish to provide the visitor with an honorarium. (Note: Certain visa types do not allow for the visitor to receive either a reimbursement for expenses or an honorarium.) The formal invitation letter is an appropriate format in which to clarify some of these issues. An invitation letter should indicate the dates a guest is expected to come to the University, the length of stay, expectations of what the guest is to do while at the University, and what the University's financial obligations are for the visit. The University, via the Academic Visitors website, has an approved invitation letter template that you can use as well as a template for a Visitor Participation Agreement and speaker agreement-related information when needed.
To host the delegation in an orderly fashion, a standard itinerary (agenda) format is suggested. The completed itinerary should be available to both the delegation and the Pitt hosting entity prior to the event. Important inclusions are:
Names and titles of delegates
Names and titles of hosting staff
The chairperson for meetings
Activities with their durations and running sequence.
Seating chart
Resources
Templates
To aid you in your international delegation planning, our office has created several templates that you can use for your own delegation. These include budgetary tools, planning questionnaires and itineraries. Access these templates, please note, you will be prompted to log into your My Pitt account.
Venues/Suggestions
If you are looking for places on Campus to show your guests, the following places on campus can be included in your tour. These historical buildings offer grandeur, history and a pleasant sightseeing experience for your guests, while giving a glimpse into some of the facilities available to students and staff on campus.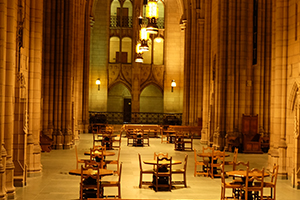 Located in the Cathedral of Learning, the Nationality Rooms are one of Pitt's most prominent features,  having gained international recognition and have become a regular tourist attraction in the for all visitors to the City of Pittsburgh. Depending on the timing of your visitors, you can schedule a tour with a University docent.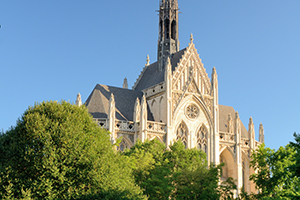 Besides the Cathedral of Learning, Heinz Chapel (dating from the same period) is one of the most prominent buildings on campus. Hours and availability should be checked in advance.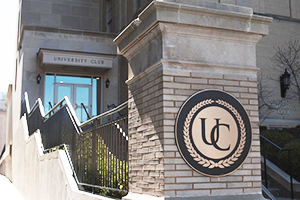 When entertaining on campus, this unique feature to the University of Pittsburgh, shows the grandeur of an old private social club now converted for use by staff and faculty. This period building contains two restaurants, several elegant rooms for hosting events as well as a library and rooftop terrace during the summer months.
Located on the ground floor of Wesley Posvar Hall, just as you enter from Schenley Plaza, Pitt's new Global Hub is slated open in Fall 2019. The hub will be an interactive space where you can find programs that match your interests, watch videos about study abroad and faculty projects around the world, join a conversation table, learn about Pitt's renowned area and thematic studies centers, find details about international studies certificates, view artifacts from the Nationality Rooms, watch street scenes and news from around the world, and more.
---
Useful Links